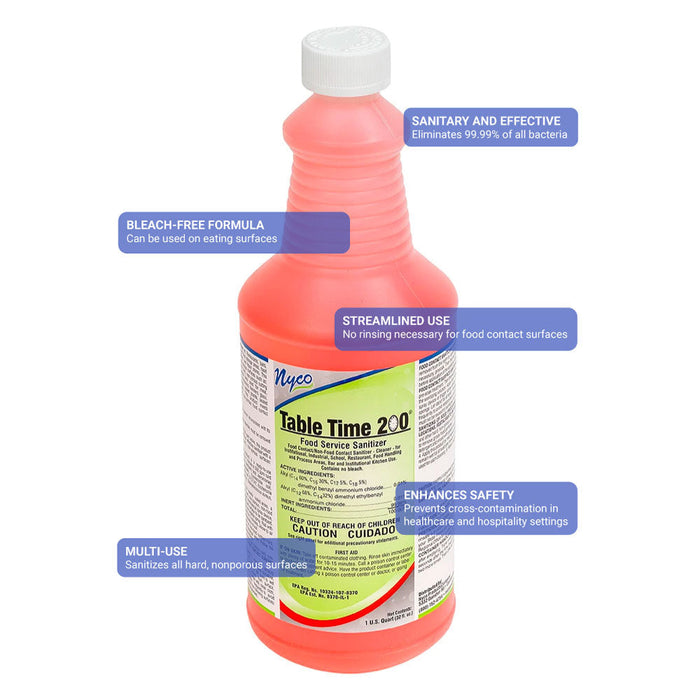 Counter & Table-Top Surface Disinfectant Sanitizer Spray 32 oz Food Service
Shipping anywhere in USA
Get it between -
Product description
Table Time 200 Food Service Surface Disinfectant Sanitizer Spray used for Institutional and Industrial Use. School, Restaurant, Food Handling and Process Areas, Bar and Institutional Kitchen Use.
Disinfecting and sanitizing tabletops in your business is vital to promote the well-being of you, your staff, and guests.

Prevent the spread of harmful bacteria and other germs through surface contact with Table Time 200 food service sanitizer from Nyco Products. This spray comes in a 1-quart bottle (spray nozzle not included).
Table Time 200 is a one-step disinfectant and sanitizer that kills an array of bacterial germs that can impact well-being. One spray is all you need to eliminate 99.999% of bacteria on any non-porous tabletop, counter, or surface.
Table Time 200 works to kill several germs like salmonella and E. coli that may be found in foodservice operations.
Additionally, this sanitizer is food contact safe and can be used on glassware, flatware, refrigerators, microwaves, and a wide array of other kitchen wares and equipment if needed. This product is not designed to replace dishwashing, use on wares with caution and care.