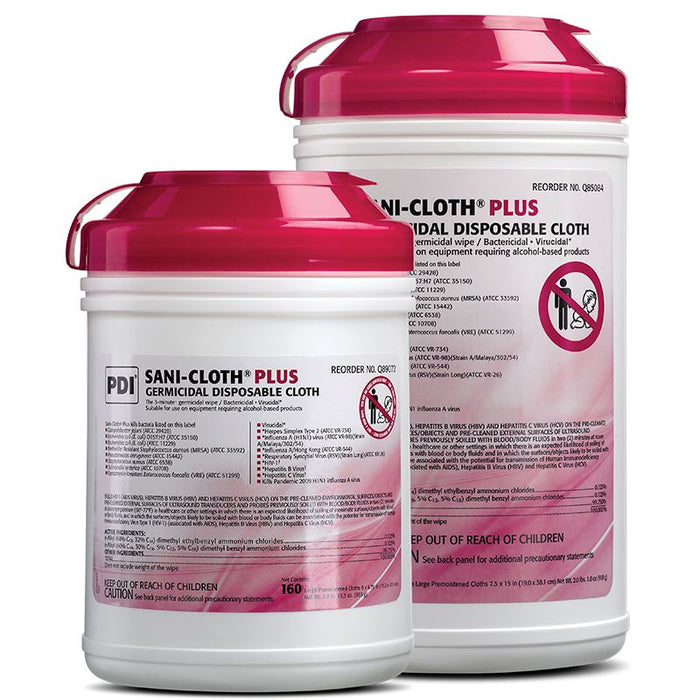 Sani-Cloth Plus Germicidal Disposable Wipes
Shipping anywhere in USA
Get it between -
Sani-Cloth Plus is an alcohol-based, non-woven surface disinfectant wipe. Made to cleans and disinfects hard surfaces like table top surfaces, med carts, and medical equipment and is safe enough to sanitize children's toys. Quaternary low alcohol formula that is impregnated throughout the wipe. Kills E.Coli, Herpes Simplex Type 2, H1NI Virus, Influenza A, RSV Respiratory Virus,HIV-1, and VRE. Each wipe is saturated with 2,500 ppm of active quaternary ammonium chlorides.
Directions:
Remove lid and discard inner seal from canister. Find center of wipe roll, remove first for use, twist corner of next wipe into a point and tread through the hole in the canister lid. Pull through about one inch. Replace lid. Dispense remaining wipes as necessary by pulling out at an angle. When not in use keep canister cap of lid closed to prevent moisture loss.
Sani Cloth Plus Features:

Disposable disinfectant wipe / towelette

Sani Cloth Plus is effective against 15 different Microorganisms

Kills Respiratory Syncytial Virus (RSV) in under 1 minute

Premoistened Towelettes / wipe


Sani Cloth Wipes are made with a strong diamond-embossed construction

Cost effective disposable wipes

Resealable container prevents moisture loss

6" x 6 3/4"

160 Wipes per Canister
PDI Sani Cloth Plus are a highly effective hospital-grade disinfectant wipes that is trusted in healthcare clinics throughout the world. Sani Cloth Plus wipes are handy to have around the office. If a contagious patients visits the office, the nurse or assistant can quickly disinfect the equipment and counter tops before the doctor treats the next patient. PDI Disposables manufactures a handful of different powerful disinfecting wipes to sanitize any type of surface. Each type of sani cloth wipe has a different formula that kills different kinds of bacteria. The Super Sani Cloth has higher alcohol content (55%) and can kill TB and RSV in less than 1 minute. Sani Cloth hb is another powerful germicidal wipe that is made to kill HBV, Influenza A-2 Virus, Acinetobacter, Aspergillus niger and Trichophyton mentagrophytes in 10 minutes; plus over 100 microorganisms. 
 PDI Sani Cloth Wipes are primary used in healthcare settings to kill off germs and bacteria in patient's rooms. If a person is usually in a hospital or nursing home they are sick. Sick or elderly people's bodies are more prone for the risk of getting an infection and fight off sickness as well a young, healthy person. Sani cloth wipes are premoistened and ready-to-use and can kills millions of germs with one quick swipe.
Sani Cloth Plus Kills RSV in 1 minute; HBV, HCV, HIV-1 and MRSA in 2 minutes; TB and VRE in 5 minutes.
Effective in killing all these harm bacteria viruses:
 Escherichia coil (E.Coli), Methicillin Resistant Staphylococcus aureus (MRSA), Mycobacterium bovis BCG (Tuberculosis) , Pseudomonas aureus, Salmonella choleraesuis, Vancomycin Resistant Enterococcus faecalis (VRE), Herpes Simplex Type 2, Influenza A2/ Hong Kong, Respiratory Syncytial Virus (RSV), HIV-1, Hepatitis B Virus, Hepatitis C Virus.
***Top Dispenser with re-sealable flip-top, Red colored Top and white bottom
14.85% alcohol based.
Warnings: Causes substantial but temporary eye damage. Do not get in eyes or on clothing. Avoid contact with skin. Wash thoroughly with soap and water after handling and before eating, drinking, chewing gum, using tobacco, or using restroom. Remove and wash contaminated clothing before reuse.
Brand: PDI Disposables