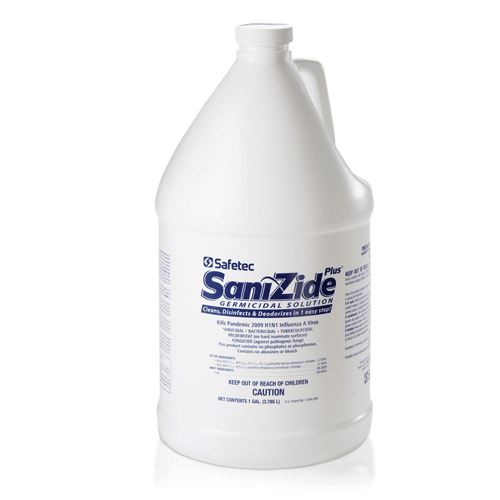 Sanizide Plus Disinfectant Germicidal Solution 1 Gallon Jug
Shipping anywhere in USA
Get it between -
Product description
Safetec Sanizide Plus Germicidal Solution gallon disinfecting solution is vital for those who deal with harmful bacteria and fungi on a daily basis. Just a few sprays of the SaniZide will eliminate any harmful infections and diseases that are on the surface.
Features:
EPA registered
Alcohol free  
1 gallon jug
Benefits:
Kills all forms of fungus and bacteria within 10 minutes    
Cleans, disinfects, and deodorizes in one step
Works on multiple surfaces   
Ideal Uses:
Instructions for use:
Clean area first, spray solution eight inches from the area, let sit for up to 10 minutes, and wipe clean with a rag or mop.