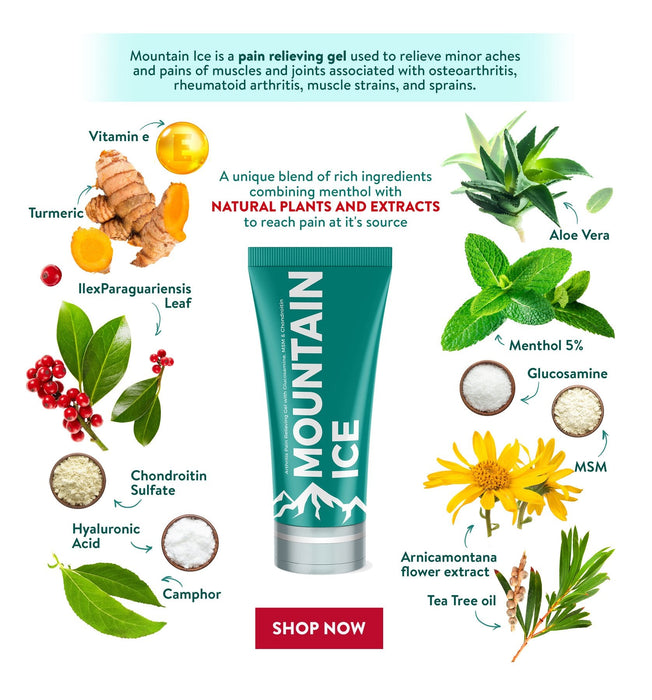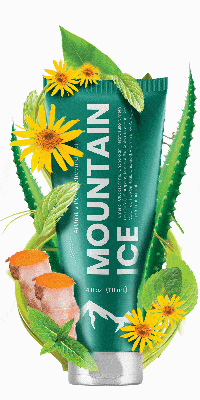 Mountain Ice Arthritis gel for Back & Neck Pain
Shipping anywhere in USA
Get it between -
Product description
Mountain Ice is the newest product to hit the pain relief market.  It has taken the active ingredient of menthol and combined powerful natural plants and extracts to create a specially designed formula that reaches pain at the source.  The combination creates the perfect blend of rich ingredients formulated to relieve pain, reduce inflammation, improve circulation, and promote better muscle and joint healing. Works excellent for Arthritis, Joint & Nerve Pain Relief.
Unique formula that soothes pain fast
Made with Natural Ingredients
Excellent on Arthritis and Joint Pain
No Sticky residue
Last 5 times longer than most competitors
Anti-inflammatory
Absorbs deeper and reaches pain at the source
Much more than just a Numbing topical freeze gel.

Menthol:  An active ingredient in pain relieving products because it provides a cooling and numbing sensation to the skin and prevents the pain from traveling to the central nervous system.  
Turmeric:  A natural plant mainly used in the Indian culture as a digestive aid that has been discovered to provide health benefits for pain relief.  It is the magical ingredient, curcumin, which makes turmeric such a powerful ingredient because of its antioxidant and anti-inflammatory properties. 
Glucosamine:  A naturally occurring chemical found in the fluid surrounding our joints.  Glucosamine sulfate is also found in shellfish and is mainly the form used in dietary supplements.  
Camphor:  Originating from a tree in Asia, camphor has been used for centuries to relieve pain.  The oil extracted from the wood is widely used today in gels, lotions, creams, balms, and salves.  
Vitamin E:  Traditionally used for its anti-aging and healing properties, vitamin E oil can be applied topically or taken in vitamin form.  It is a powerful antioxidant that is also found in many foods and slows the damage caused to cells. 
Aloe Vera:  Mainly known for its cooling effects on burns and healing properties on abrasions because of its ability to fight off bacteria and boost the immune system.  
Glycerin:  Found in plant sources, it also occurs in the body naturally and serves as a humectant by drawing water and retaining moisture.  It acts as a barrier to the skin against free radicals and harsh environments, and prevents dryness caused by excessive hand washing.